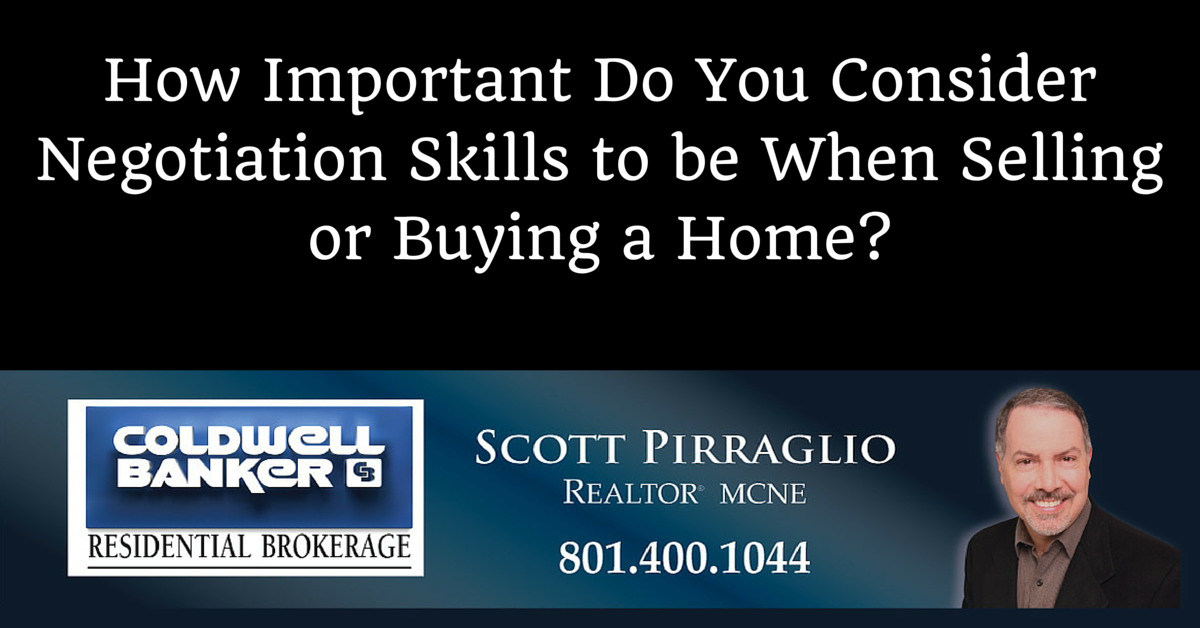 I am amazed at how frequently I receive an offer for one of my listings without ever exchanging a single word with the agent submitting it. In fact, I would say that every 9 out of 10 offers is emailed with either little or no communication whatsoever.

So this is my question to you: How important do you consider negotiation skills to be when you're either selling or buying a home?
Skilled negotiators plan a strategy for their clients prior to the review and/or acceptance of an offer. They go into the transaction understanding the strengths and weaknesses of their clients and cleverly position themselves to extract information from the other agent with regard to the strength and weaknesses of the party on the other side of the transaction. Clearly, your agent can't accomplish any of this if he or she never picks up the phone.

It may amaze you that the vast majority of agents in Salt Lake County have little to no formal training in the art and skills of negotiation. For the most part, this is something that the agent has to invest in separately, and as a result, most of them don't do it. This is why I chose to invest in my designation as a Master Certified Negotiation Expert through the National Real Estate Negotiation Institute. I am one of less than 2% of agents nationwide with this certification.
Sellers and Buyers have often learned to interview agents by asking questions like "How many homes have you sold?" or "How many listings do you currently have?" or perhaps "How long have you been in the business?"
It's quite possible that the agent has sold several homes in the past year, may have several current listings, and may have been in residential real estate for years. However, ask yourself this question: "Do any of these three questions provide information as to how skilled and/or educated they are in helping their clients achieve the very best price and terms for the sale or purchase of their home?
Chances are better than not, that your home is the single largest investment you've made (or will make) during your lifetime. Therefore, why wouldn't you consider negotiation skills to be one of the most important attributes for your Realtor to possess great strength in? Isn't that what people seek when they choose to hire an attorney? They want someone to get them the best possible settlement and terms for the outcome. Why then isn't this more logical to the person selling or buying a home; especially when most often they end up paying the unskilled agent the same amount of commission they would have paid a skilled agent?

If you're truly seeking the best price and terms on your home, try using this set of questions the next time you interview an agent:
"Do you possess any verifiable formal training, certification or educational designations with regard to negotiation skills?" "Can you provide me with some examples of price and/or terms that were accomplished during your recent transactions that your clients would consider to be above and beyond? If so, are you able to provide me with their references?" "How much money do you invest annually to enhance your education and skills in residential real estate?"

In simply placing focus on these extremely important questions, you'll likely achieve a far better outcome for price and terms on the home you sell or purchase.
The old saying holds very true today: "If you think hiring a professional is expensive, try hiring an amateur."